You've worked hard to establish your online business - and Volusion's search engine optimization experts will work just as hard to make it successful by driving more customers to your website. Our SEO team will implement effective tactics to boost your visibility in organic search results so that you can capture more revenue. In fact, customers using our SEO services for at least 12 months experience a 202% average increase in organic revenue.
Our SEO Strategy
Keyword research
We research your target audience and the competition to determine specific keywords for the highest return on investment.
Build brand awareness
Having your website and brand featured on quality resources is important. We help you to build legitimate citations and drive meaningful traffic back to your site.
Optimized content
The key to successful SEO is content. Our team will write copy for your most important product, category and blog pages.
Analysis
We analyze metrics like organic traffic, number of backlinks, link sources and more to understand SEO performance.
Ethical tactics
Our SEO philosophy is strictly "white hat." We don't tout gimmicks and trickery. We use ethical and safe practices that work for the long haul.
Consistent & transparent
We work consistently on your campaign and provide a collaborative, online project management tool to keep you informed.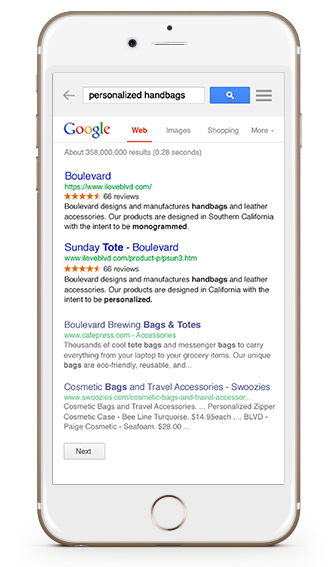 SEO Plans
We'll identify opportunities to help you see better organic search results
All plans include:
doneInitial Phone Consultation
doneGoogle Analytics Implementation
doneGoogle Webmaster Tools Verification
doneTechnical Optimization
doneKeyword Research
doneOn-site Optimization
doneMonthly Reporting
* Most Popular *
Starter SEO plus:
doneFormal SEO Audit
doneEnhanced Technical Optimization
doneSEO Strategy Proposal
doneSEO Campaign Execution
doneContent Strategy
doneLink Profile Analysis and Clean Up
doneMass Meta Tag Updates
doneImage and Video Optimization
doneOptional Local SEO
doneAdvanced Reporting
doneQuarterly Strategy Consultations
Advanced SEO plus:
doneDedicated Marketing Consultant
doneCustomized Branding Guide
doneConversion Consulting
doneSocial Media Profile Optimization
doneSocial Media Management
doneFacebook Advertising
doneContent Promotion
doneManufacturer Description Rewrites
donePlatform Migration Consulting
doneMulti-Channel Marketing Consulting
doneMonthly Strategic Calls
doneMonthly SEO and Social Media Reports
* Your custom-tailored plan may include all or some of the above strategies depending on your store's specific needs and which strategies work best within your industry.
Interested in a Custom SEO plan?
Let Volusion put together a quote for you!
Request a quote
Hear what our customers are saying
Since AntelopeBeads.com switched to Volusion we have beaten previous years' revenue month over month. We utilized Voulsion's SEO services to get our site the best possible Google rankings in our industry. Our organic traffic is up 35%, our customer base has doubled and our total revenue is up over 110%
-Antelopebeads.com
SEO Audit
We'll identify opportunities to help you see better results
The SEO Audit is an excellent educational tool to help you understand not only what the experts recommend for your website, but why. This robust report explores on-site optimization and more complex SEO issues such as link profiles and penalties. If your website has a solid SEO foundation, but traffic has recently stalled or dropped, our SEO experts can help you identify potential issues and opportunities for reviving your SEO performance.
If you are relatively new to SEO, with a basic to intermediate understanding of search engine dos and don'ts, the Starter SEO Audit is a great place to start. Get easy-to-follow explanations of what you are getting right and what needs improvement, as well as an action plan for taking your website to the next level.
The Starter SEO Audit includes:
donePrioritized SEO recommendations
doneTechnical analysis
doneOptimization analysis
doneVisibility analysis
doneA comprehensive link earning guide
The Advanced SEO Audit is a robust report that explores more complex SEO issues such as link profiles and penalties. If your website has a solid SEO foundation, but traffic has recently stalled or dropped, our SEO experts can help you identify potential issues and opportunities for reviving your SEO performance.
The Advanced SEO Audit includes:
doneEcommerce Google Analytics implementation
doneGoogle Webmaster Tools verification
donePrioritized SEO recommendations
doneTechnical analysis
doneOptimization analysis
doneVisibility analysis
doneLink profile and penalty analysis
doneA comprehensive link earning guide
SEO services FAQs
What are the advantages of using a Custom SEO strategy?

Custom SEO packages are generally far more robust particularly in regards to off-page optimization, engagement, and link building, but most importantly, these plans are tailored to your website's particular needs and SEO objectives.

Can't we do SEO ourselves?

Yes, with lots of time, expertise and patience. Learning the ins and outs of SEO, developing a strategy, and implementing/monitoring progress is a time-consuming feat that many business owners aren't interested in tackling. Our SEO services are offered for clients who want to spend time on other aspects of their businesses while letting experts handle their SEO campaigns.

Can you guarantee me anything?

It would be unethical for any SEO service provider to guarantee specific search engine results due to the uncontrollable variables that influence them. Any company that makes such a promise demonstrates a fundamental lack of understanding of SEO. The methods and practices we employ are both ethical and have a strong history of success.

How much involvement is needed from me?

Aside from a few items that require client approval, you can be as involved or hands-off as you would like. Some of our clients choose to be highly involved and enjoy providing content ideas and suggestions. Others prefer to concentrate on their day-to-day business and leave all SEO efforts to our team. We respect each store owner's personal time commitments. Regardless of your involvement level, our SEO team will always provide consistent reporting to ensure that you're informed on current developments.

How many keywords do you implement?

A general rule for SEO is to optimize each page for about 3-5 primary keyword phrases. While there's no concrete rule, our team follows this general guideline in performing keyword research for each page. The total number of keywords depends on the number of pages being optimized.
What can I expect from Volusion's Starter SEO packages?

Starter SEO Packages include keyword research and complete on-page optimization for a different set of pages each month. Optimizing pages of your site for popular keywords increases the chance that users will find those pages in related searches.

An Starter SEO Package is a great option for businesses looking for a quality SEO solution at a low monthly cost. It's also a cost efficient way to optimize a large quantity of pages over time when optimizing all pages at once isn't economically feasible.

Quality on-page optimization establishes a critical foundation for SEO success and is an essential online marketing activity for any ecommerce business. The Starter SEO packages exclude off-page optimization, another important component of Search Engine Optimization.

What else would you suggest I do to increase sales and traffic to my site?

An effective SEO campaign can significantly increase organic traffic to your site, but it doesn't guarantee sales conversions. There are many external variables affecting conversions that are simply outside the control of your SEO expert, including demand, pricing and other market forces. That said, there are a few complementary practices that the SEO team recommends to all ecommerce clients: design and marketing.

All the SEO in the world cannot improve a shopper's reaction to a poorly designed website. The shopper should immediately "feel" your online store is legitimate and trustworthy. If they don't trust your site, they won't purchase a product nor will they come back to the store to browse in the future.

Likewise, SEO on its own does not make up a complete marketing strategy. Your online marketing strategy should also include complementary elements such as social media, PPC (pay per click) advertising, and shopping feeds. There's no exact recipe for success, but it's rare to find a successful company that doesn't actively market itself through multiple online channels.

How can I determine if my website is optimized for search engines?

One of the best ways to gauge your current SEO standing is to have an SEO audit completed for the site. We offer a comprehensive and affordable audit that contains both SEO analysis and specific recommendations designed to help you take the next step - whether it be performing SEO yourself or enlisting our SEO services. Learn more about the SEO Audit.

Why do you only optimize a few pages when my site has hundreds of pages?

Because web pages are ranked individually, having each page optimized for keywords relevant to its content would be ideal. We focus on the most important landing pages because achieving SEO results for even a single page requires a lot of time and effort. Thus, optimizing an unlimited number of pages for a flat rate would be unfeasible.

Our Starter SEO Packages, which include on-page optimization of a set number of pages each month, allow you to continuously build optimized pages for a low monthly fee.