Ecommerce PPC Marketing Services & Solutions
Our PPC clients average a 97% increase in revenue after 3 months
PPC Management
PPC Audit
Bring buyers to your online store instantly with targeted pay-per-click advertising.
Ecommerce pay-per-click (PPC) advertising is a great way to promote your store and bring motivated buyers directly to your products. Our paid search professionals will create, manage and optimize your Bing or Google PPC campaigns to get the biggest bang for your buck.
Our PPC Strategy
Keyword research
Taking into account your product descriptions, target audience and industry competitors, we research keywords to place your ads in-front of customers who are searching for your products. This ongoing analysis of keywords in place allows for constant optimization to improve the campaigns effectiveness.
Campaign optimization & analysis
The research phase involved in getting your account launched is only the beginning. Our team uses the ongoing wealth of data available to hone in on KPIs and improve the account's performance.
Ad copy writing
Creating compelling copy makes your ad stand out on the page and invites the user to visit, browse and buy from your website. We always run multiple ads per ad group for a process that allows us to test which message best attracts and converts your customers.


Industry experience
Google and Bing are constantly rolling out new features and requirements. We stay on top of those so that your campaigns can utilize the newest features.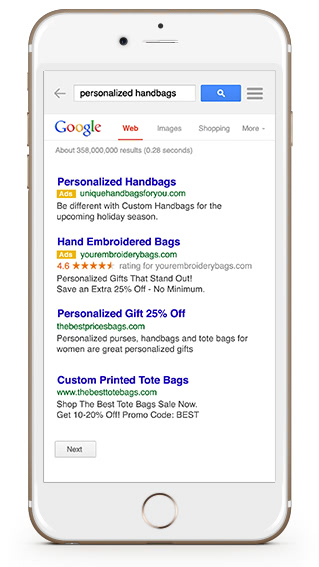 PPC Management Plans
Starter

Sign up

Advanced

Sign up

Premium

Sign up

Dedicated PPC Certified Professional

done
done
done

Initial Phone Consultation

done
done
done

Targeted Keyword Research and Analysis

done
done
done

Creation of Campaigns, Ad Groups, and Ad Copy

done
done
done

Campaign Optimization & Bid Management*

done
done
done

Google Analytics and Conversion Tracking Setup

done
done
done

Campaign Tracking Link Implementation

done
done
done

Implementation of Ad Extensions

done
done
done

Remarketing Campaign Setup and Management

done

Additional Campaign Targeting

done
done

Basic Monthly Reporting

done
done

Advanced Monthly Reporting

done

International Campaigns

done
done
Interested in a Custom PPC plan?
Let Volusion put together a quote for you!
Request a quote
Hear what our customers are saying
As a small start-up we have to be selective on where to allocate precious marketing dollars. From month one Volusion started proving themselves with their PPC services. We had tried other companies in the past with very poor results! Volusion has been generating solid sales and revenue for close to 4 months now. Thanks Volusion!
-Redfoxwireless.com
PPC Audit
Do you have an active PPC account but feel like you need some help getting it on the right track? You're not alone! Many online store owners wish an expert would look at their campaigns and tell them what they need to fix to be successful. The PPC Audit provides that dedicated account attention online store owners want!
Buy now
The PPC Audit can help if:
You are spending money on PPC but not getting the return you'd like to see
You want to reduce your PPC costs but still maintain your online presence
You are new to PPC and want to make sure your account is setup correctly
You are worried you might not be following paid search best practices
Let our paid search experts give your PPC account the check-up that it needs!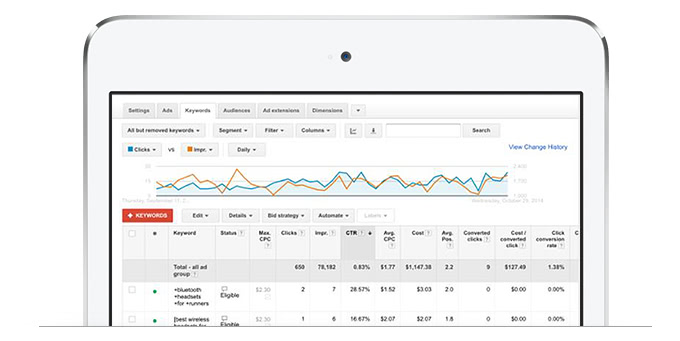 What can you expect?
Our professional paid search consultants will use their many years of experience to evaluate over 20 different aspects of your PPC account to determine if they are in line with paid search best practices and ecommerce goals. The findings will be presented in a report with clear explanations, account screen shots, and actionable recommendations.
PPC services FAQs
What is your PPC service?

Our Pay Per Click (PPC) management service leverages the years of experience our team has to help your company achieve its goals. Whether you're looking to boost sales, increase leads, or just generate high-quality traffic for your site our team of skilled professionals can help you succeed!

How is traffic qualified and targeted?

Our team places ads for your business on major search engines, which appear when shoppers search for the products or services your business offers. Traffic is targeted through the keywords we select and qualified through our creation of effective ad text for your business.

Does PPC guarantee sales?

There is no guarantee on the number of conversions produced by clicks. There is, however, a correlation between effective PPC and added sales. Remember that there are many factors involved in producing sales (design, pricing, product descriptions, etc.). We'll get the traffic to your website, but it's ultimately up to you to finalize the sale.

Is Volusion a Google Partner?

Google Partners is a new program geared towards pay-per-click (PPC) agencies. The program has a lot of benefits for our team but essentially shows our Volusion store owners that Volusion is a Google Partner agency, specializing in PPC services. Being in this program allows Volusion to show up in the Google Partners search (where those looking for PPC services can find accredited companies) and instills confidence in tour store owners by showing multiple members of our team as PPC certified.
Can't I do it myself?

Our team has years of experience in search engine marketing research and analysis. This allows us to determine the most effective and relevant keywords for your site and to create engaging ad copy that makes shoppers want to browse your site and buy your products. In order to be successful, your campaign needs to be monitored regularly, which is something our team will do while you focus on building your business. We make sure that your ads are doing what they're supposed to- driving targeted traffic to your website.

Do I have to be a Volusion customer to use your PPC services?

The deliverables listed in our PPC plans are only for Volusion customers. Although we're able to offer our PPC services if you're using another ecommerce platform, we don't implement tracking parameters and snippets on such websites – in this case, you'll need to implement any code on your own.

How do you help drive traffic to my site?

Target audience. We will get to know your business and collaborate with you to identify your target audience so we can market your products to the right people.

Keyword research. Once we determine your target audience, we use a variety of professional tools and techniques to select keywords that deliver the most relevant traffic for the lowest cost.

Ad copy and landing pages. We write engaging ad copy and select relevant landing pages for each of your ads to give your traffic the best chance to convert into sales.

Implementation. Every campaign is different – our team will implement your campaigns with the right mix of settings to achieve your objectives.

Analysis. We continuously analyze campaign performance and perform regular optimization activities that help your campaign succeed.